Plastering provides a smoother and more attractive finish in the interiors of homes and buildings. The technique and skill of plastering has been in the construction industry for centuries. Internal plaster walls and ceilings have been constructed using different techniques which have evolved over time to be more time efficient, resource efficient and cheaper for today's homeowners across Australia.
Whether you're looking to get a few minor cracks in your interior walls repaired or looking to do a full-scale renovation the exact process required will largely depend upon the type of existing walls in your property. Here are 4 common types of internal plaster walls frequently found across homes in Sydney:
When repairing internal plaster walls, the techniques and materials should be the same as what was originally used. It is also crucial to remember that you can't mix traditional soft lime putty plaster with modern gypsum plasters.
Wet plastering
This is the traditional plastering technique which has been in practice for hundreds of years. Wet plastering involves adding several layers of wet plaster over an entire surface (wall or ceiling). Plaster mixtures varied according to the time of construction but they typically contained/contain mixtures of lime putty, cement, and gypsum. There are two common types of wet plastering and these are Lath and plaster walls and Plaster on Masonry. Both are commonly found across many of Sydney's older properties. 
Lath and plaster walls
This technique was used for non-load-bearing internal walls and ceilings as pictured below. Laths are strips of wood with measurements of about 6 mm by 25 mm or 1 by 1/4 inches. These are nailed horizontally to the vertical upright timbers which act as the wall framework. The laths are placed with gaps that are usually about 6mm or 1/4 inches. These gaps are the key for the plaster coating which will be applied later on. 
Lime putty plaster mixtures are used to cover the lath and plaster walls. Traditionally, there would be several coatings with different levels of mixtures.
1. First coating or Render Layer – This coating will fill in the gaps between the laths to ensure a strong bond. The coating will be about 8 mm or 3/8 inch in thickness and the surface is rough.
2. Second coating or Floating Layer – This provides a smoother surface in preparation for the final coating. Usually, this is about 6 mm or 1/4 inch thick.
3. Third/final coating or Setting Layer – This is the last coating which is about 3 mm or 1/8 inch thick. The surface is smoothened as the last layer to improve texture and appearance.
Plaster on masonry
Wet plaster was often applied to interior walls constructed of masonry to give the wall a smooth clean finish. Similarly, to lath and plaster walls, typically three coats were applied – render, floating and setting.
Modern practice makes use pre-mixed gypsum-based renders and premixed finishing plasters available at hardware stores. These modern premixed renders and plasters help to save time by shortening the drying process.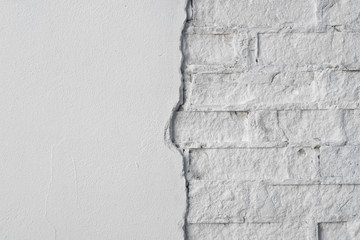 Plasterboard walls/ dry lining
With the development of plasterboards, also commonly referred to as gyprock (a leading manufacturer of plasterboard products), the use of wet plastering decreased, since the installation of plasterboard is much easier, less time-consuming. Most modern Australian homes are now lined with plasterboard internal walls.
Plasterboard walls/gyprock walls on timber framework
The process of constructing a plasterboard wall in fairly straight forward. A timber frame is built upright for the wall and the sheets of plasterboard are cut into size then nailed or screwed onto the framework directly. Laths are not required.
The joints between the plasterboard sheets and its edges are covered by a plasterboard joining tape. Then a few thin layers of plaster are applied over the tape to visually conceal the joints between the plasterboard sheet giving the wall a smooth and continuous finish.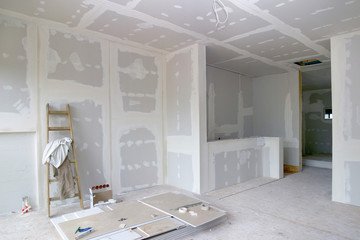 Plasterboard walls/gyprock walls on Masonry
This is a modern and improved technique for walls built on bricks, stones, and blocks or any other uneven surface for that matter.
A series of adhesive dabs are placed both horizontally and vertically on the masonry wall. These are spaced apart with about 400 mm or 16 inches between dabs. The plasterboard sheeting is hard-pressed against these dabs beside adjacent sheets and levelled.
Joining tape is then used to cover the joints between the plasterboard sheets. A few thin layers of plaster are applied over the tape, to visually conceal the joint.
Now you know a bit more about the different types of internal walls commonly found in homes across Sydney. Perhaps you can now identify the types of internal walls in your property?  
Looking for an immaculate finish?
Hire a Professional Plasterer 
If you're considering repairing, restoring or renovating your property, you may want to consider hiring a professional plasterer to do the plastering, as the finish will be substantially better than a DIY job simply due to the degree of skill required to get a smooth, even finish!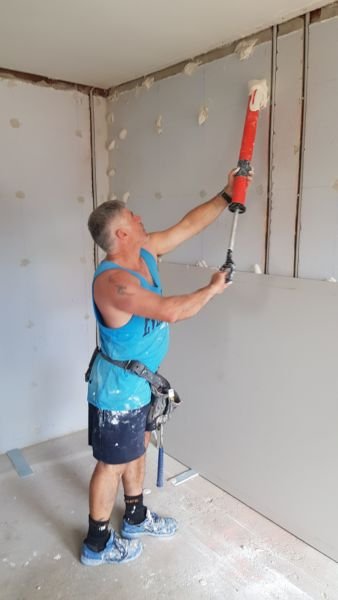 Get a Free Quote
On your next plastering job, no matter how big or small give Paul a call and he'll give you some honest advice and a fair quote. With 15 years experience, fully licensed and insured you've got nothing to lose by getting a quote