Plastering renovations Sydney
✓

Quality workmanship
✓ Honest service
✓

Value for money

✓

Licensed & insured
Plastering Renovation Works Sydney
If your renovating or building an extension to your property, chances are you'll need a plasterer at some stage.
When it comes to constructing new internal walls and ceilings or altering existing walls, ceilings and doorways we've got all your plastering needs covered. From modern plasterboard (aka Gyprock) walls and ceilings to older style plaster and lath you trust Paul has the knowledge and experience to do a quality job each and every time.
From simple jobs like creating a ceiling manhole, to removing those curved archways that date your property, right through to complex highly skilled venetian plastering . One call and your plastering issues can be solved.
Suspended Ceilings Sydney
Suspended ceilings also known as dropped ceilings, floating ceilings, or false ceilings are an additional ceiling suspended or fixed beneath the original or structural ceiling. They're typically made of timber or steel framing and covered with plasterboard sheets.
There are many reasons why a homeowner may opt to construct a suspended plasterboard ceiling. Sound proofing (think noisy neighbours in apartments), improved acoustics (home theatres), hiding utilities such as wires and pipes, increased heating/cooling efficiency (especially for high ceiling properties), and aesthetic appeal, are among the many reasons. why you might opt to build a false ceiling.
Paul's got the experience and expertise you need for trouble free suspended ceiling installation in your Sydney home. Simply call 0415 801 028 and arrange a time for Paul to come around and give you a free quote for your suspended ceiling project and some helpful advice if required.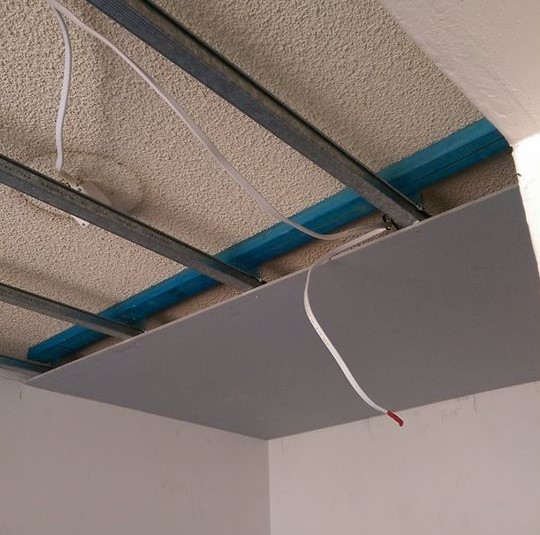 Dropped ceilings, perfect for covering vermiculite ceilings
Many homeowners who opt to construct a false ceiling are doing so to cover their properties vermiculite ceiling (also known as popcorn ceiling) which is present in many older apartments in Sydney.
The false ceiling not only covers the dated popcorn ceiling look with a smooth and clean finish, but it also allows the homeowner the option to install downlights in their property further enhancing the property's modern look and feel.
Ready to transform your property's look?
Get an affordable obligation free quote today!
Bulkhead Construction Sydney
Bulkheads are sections of the ceiling which protrudes out from the surrounding surface. Bulkheads are commonly constructed to conceal utilities such as pipes, electrical wires, vents, and air conditioning units. They can also be utilised as a design or aesthetic feature within a property.
Want professionally built tidy bulkhead? Give me a call for an affordable, obligation free quote.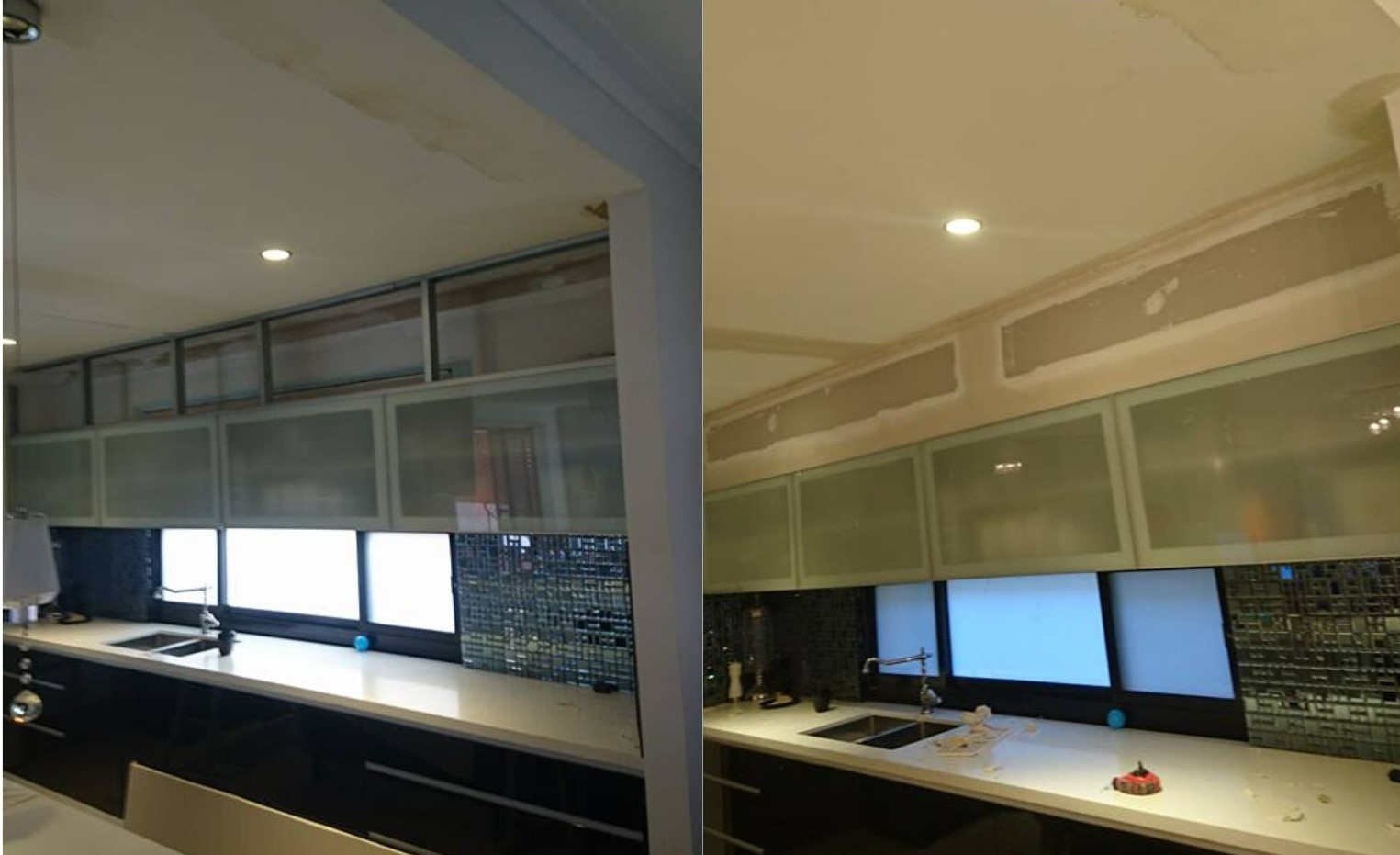 Odd Plastering Jobs
When you're doing a reno, chances are at some stage you'll need to hire a plaster to fix up mess created from removing walls, changing windows or doors or from changing your kitchen layout. There's a host of reasons why you may need a plasterer.
By choosing an experienced and skilled plasterer you can rest assured that they will be able to blend in your new features seamlessly.
Paul was extremely professional and responsive to my request to install a false ceiling to cover an existing vermiculite (popcorn) ceiling. At short notice, he came to measure and provide a quote and also offered good advice about the job at hand. I am very happy with the workmanship and installation of the new ceiling. Thanks Paul!

MG&S Chaston

Hired Paul to install traditional plaster cornices and a traditional archway in my inner west terrace. He did such a good job, you wouldn't know it wasn't original. The usual reaction I get from people when I tell them the archway is not original is 'wow'. I'm very fussy and I wouldn't hesitate to recommend Paul to friends or use him again. He's a great guy too.

Matt G

Paul was fantastic! We had our ceiling collapse in the heavy rain of March 2022. Paul came around on a Sunday to check it out, and he had it repaired really well by the following Wednesday. It was by far the best value quote too. Would highly recommend.

Kendall Warren

Very happy with Paul's workmanship. Highly recommend and will be getting further work done in the near future. Many thanks

FKNpiston

Professional, reliable, cost effective operation. Paul completed a complex restoration in an art deco house, which included a curved beam and cornice. He completed the work in a timely, professional manner, with great attention to detail. He takes pride in his work and will not disappoint. Highly recommended

Katrina Michaels

Paul replaced the Carport ceiling with Aguacheck plasterboard He was a true professional, and was punctual and reliable. Paul completed the job on time and the quality was fantastic. I would highly recommend him .

Andrew Eliatamby

Highly recommend!! Paul & Andrew were great to deal with, Paul quoted on a Saturday & they arrived on time when arranged. We had multiple holes in our walls & ceiling to repair. Excellent plastering, our walls are so smooth, sanding included in the quote. Left our home very clean when finished. Will definitely be having them return for future plastering.

Lucinda Holton

Paul went above & beyond to install 2 new false ceilings. Paul is co-operative, friendly & professional.

Maxwell Connelly