If you're thinking of renovating your home, and you want to get rid of that outdated popcorn ceiling but you're not sure how to go about getting rid of it, you're in the right place. We'll look at the different methods you can apply to remove that ugly popcorn ceiling and create a much more smooth, clean, and modern look for your home.
Popcorn ceilings, aside from their dated appearance, may contain hidden hazards. For example, dust clings to the rough texture of popcorn ceilings, causing allergies. Worse, asbestos may be released into the air if the fibers of older popcorn ceilings are disturbed.
What is Popcorn Ceiling?
First of all let's make sure we are on the same page, and let's look at what precisely a popcorn ceiling is. Popcorn, also known as a vermiculite ceiling, is a textured ceiling that became popular in the late 1930s.
Vermiculite is a natural substance made of glittery flakes that resemble mica. Vermiculite can be expanded by heating to as large as 8-30 times its size. The Expanded vermiculite is an odorless, fires-resistant, and lightweight material often used for insulation.
Popcorn ceiling is a textured ceiling finish that is applied with a sprayer. It is often compared to cottage cheese or popcorn, which is how it received its name. Some popcorn ceilings are made of Styrofoam pellets, cardboard, vermiculite, or some may even contain asbestos.
Popcorn ceilings, sometimes or acoustic ceilings, were fashionable during that era. In addition, builders employed textured ceilings in homes because they were affordable and could easily disguise faults.
Appearance varies from a coarse texture similar to popcorn to a fine texture similar to cottage cheese and even sand. Popcorn ceilings are also designed to improve the room's acoustics by reducing ambient noises and echoes so they're commonly found in older apartments around Sydney.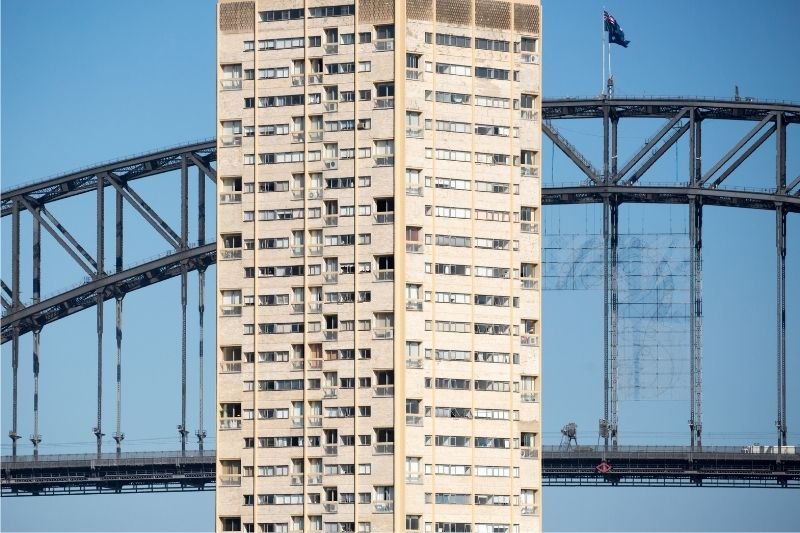 What Types of Buildings Contain Popcorn Ceiling?
Popcorn ceilings reached their peak of popularity in the 1930's and were popular until the 1980's. This is why many homes built during this period still have popcorn ceilings. They were also a cost-effective and time-saving technique.
Contractors do not have to smoothen the ceilings for a perfect finish. Instead, they just cover it up with a popcorn finish. This is why popcorn ceilings are popular in apartment complexes across Sydney and across Australia as they also provide an acoustic treatment, helping to muffle sound travelling from one apartment to another.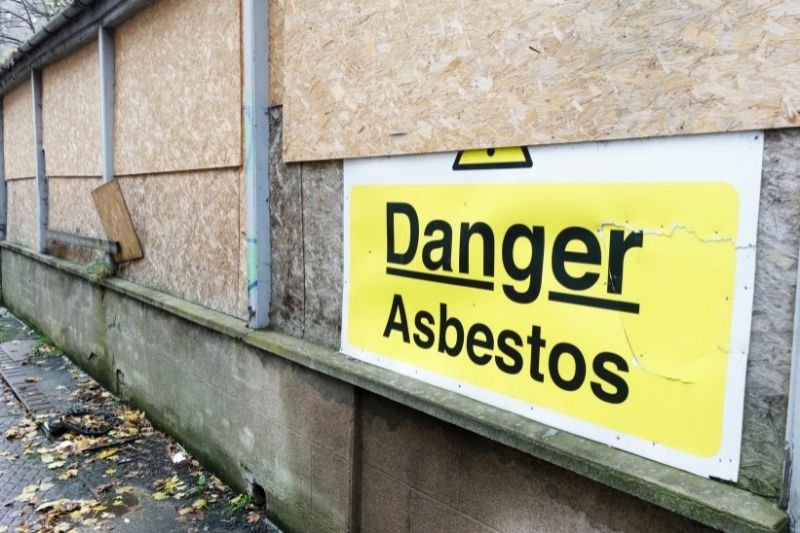 Popcorn Ceiling with Asbestos
Asbestos is a natural occuring mineral fiber found in soil and rocks. Asbestos has been employed in the building industry due to its strength and heat resistance. Asbestos has been found in vermiculite insulation.
Since vermiculate is a fundamental component of popcorn ceilings, your popcorn ceiling could contain asbestos. However, exposure only happens when objects containing asbestos are disturbed. In other words, scraping your popcorn ceilings may cause asbestos fibers to be dispersed into the air.
Asbestos exposure raises the risk of acquiring lung illness such as lung cancer, mesothelioma, and asbestosis, a dangerous long term and progressive lung illness. Symptoms of these illnesses usually take many years to manifest.
How to Get Rid of Popcorn Ceiling with Scraping
Before you start scraping your popcorn ceiling, the first thing you need know is whether or not it contains asbestos.
Scrapping Popcorn Ceiling
You can begin scraping your popcorn ceiling once you've established that it is asbestos-free. Don't forget to use a roll of painter's plastic to protect your walls and flooring. Scrapping is the most common method of removing the popcorn ceiling. You can scrape your popcorn ceilings in two ways: dry scraping and wet scraping.
Dry Sanding
Use a 4-inch or larger utility knife to chip away at the texture and create a smooth surface when dry scraping. Keep the blade flat as possible to the ceiling to avoid gouging the ceiling. You'll end up with so many drywall repairs.
To smooth out any imperfections, you'll probably need to skim it with a small layer of joint compound. Some people used a knife and vacuum attachment to scrape and reduce the dust. Sand until it's smooth before repainting.
Wet Sanding
Spray just enough water to moisten the popcorn ceiling but not so much that it soaks up the drywall ceiling. Then, use a 6-inch or larger utility knife to chip away at the texture and create a smooth surface.
It should be easier to remove the surface of the popcorn ceiling compared to dry scraping. Keep the blade flat as possible to avoid damaging the ceiling. Wait for the surface to dry before repainting.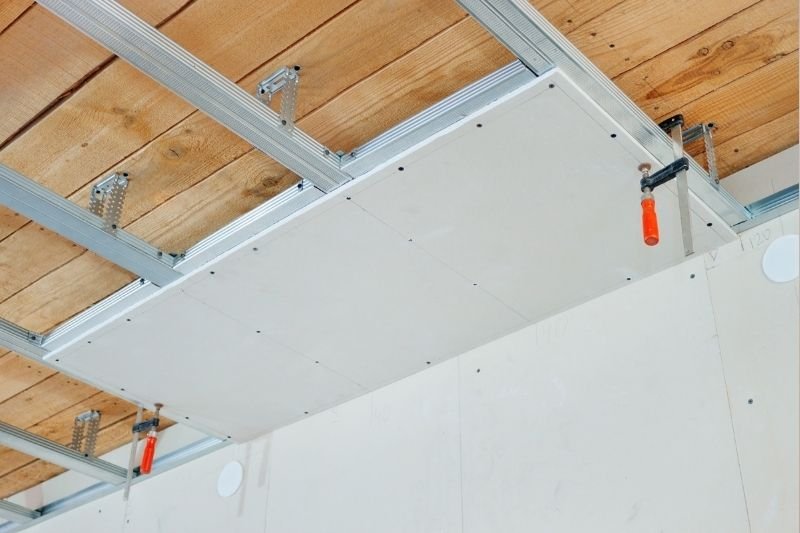 Getting Rid of Popcorn Ceiling Without Scraping
There will be situations when removing the popcorn ceiling is not possible due to asbestos. Scraping will disturb the asbestos and produce hazardous asbestos dust, which may cause health problems. In these cases, leaving the popcorn ceiling in place is better. You can simply be covering it with another material. You can do any of the following :
Drywall
If your ceiling contains asbestos and you do not want to remove it, you can safely seal in the popcorn ceiling by adding a second layer of drywall. The drywall would cover the current popcorn ceiling, allowing you to paint it.
Painting over
You can preserve the retro aesthetic if your popcorn ceilings are in good shape and do not pose a health danger. You can even give them a new coat of paint to make them look more appealing, also adding to the longevity of the ceiling without crumbling.
Construct a false ceiling (dropped ceiling)
A false ceiling hangs below a room's or home's original ceiling. You can use a metal framework to support the false ceiling. False ceilings provide functional benefits in addition to looks.
False ceilings, for example, provide good acoustics and can also be used to conceal your outdated popcorn ceilings. These are typically installed a few inches from the existing ceiling.
How Much Does it Cost to Get Rid of Popcorn Ceiling?
The cost of removing a popcorn ceiling, covering false ceilings, or painting might vary substantially depending on the contractor's skills and expertise. For example, removing a popcorn ceiling with asbestos is much more expensive due to the equipment and process required. Often times constructing a false ceiling is a more cost effective option especially when you take into consideration the added benefit of being able to install down lights and maintain the acoustic benefits of the vermiculite ceiling.
You can hire experienced contractors with experience constructing false ceilings across Sydney. You can trust the professionals at Paul's Plastering who can assist you with wall, ceiling, and cornice repairs. You can always rely on Paul for honest service, high-quality craftsmanship, and good value for money.
Looking for an affordable plasterer?
Contact Paul for a free quote on your renovation or repair project. With 15 years experience, fully licensed and insured you've got nothing to lose by getting a quote