When we talk about interior design and decorating a home, hanging art or photos are often what make a house feel like a home. Transforming a blank wall into a vibrant, warm space that reflects you and your style can be as simple as hanging up your favourite items of art and memories, of course, you don't have to cover all available wall space with photographs but tasteful and thoughtful decoration enables your home to reflect you. Balance is fundamental to any good home design.
The process of hanging a new painting or a collection of family photos may appear complicated at first with the main concern that you don't want to cause any damage to the wall or chip the paint. Before hanging your pictures, layout the frames you wish to hang and prop them up against the walls to find the ideal location to be showcased.
By trying out the locations you can find the best place for your picture. This is to prevent you from making the costly mistake of drilling and installing them in the wrong place only to need to move them shortly after which will leave you with an extra hook on the wall to cover or use up.
Fasteners and Adhesive Hangers for Walls
There are a lot of ways to mount your pictures on your plaster wall safely; here are some of them:
Adhesive hanger and hooks
Adhesive hangers and hooks can be used to attach lightweight objects to the wall without drilling a hole. They are ideal for hanging picture frames with dimensions of up to 60 x 90 cm and a weight of 7.2 kg but some of them can hold up to 20 kg, carefully read the instructions to see if this is a good option for your project.
Adhesive strips will stick to most smooth surfaces but not to bricks or other porous materials. If you need to remove them, they will come off clean without holes, cracks, broken plaster, or sticky residue. Its only disadvantage is that it cannot support particularly heavy frames or large frames.
Adhesive double-sided tape
Adhesive hanging strips can be used on most flat surfaces, including painted walls, metal, plaster walls, and wood. No screws, drills, and nails are required for installation. Multiple strips can be applied on the back side of the frame of surface of pictures. Adhesive double sided tape can hold significant weight and is even capable of holding heavy objects such as mirrors. Always check product directions prior to use.
They are more discreet and hidden behind the picture frame than adhesive hooks. In addition, they keep frames flat and fastened to the wall. Its only disadvantage is that changing removing the picture can be troublesome since it's taped to the wall and that removing the strips from the wall can cause wall paint to peel.
Plasterboard anchors
Plasterboard anchors are fasteners that have deep threads that provide more holding strength. They come in nylon or brass and are used in conjunction with a center screw picture hook, usually included in the package when you purchase them.
Threaded anchors can sustain loads of up to 40 kg when placed into studs, and up to 9 kg when no studs are used. The downside of this option is that when removed, your wall will require repairs since these anchors leave a big hole in the wall.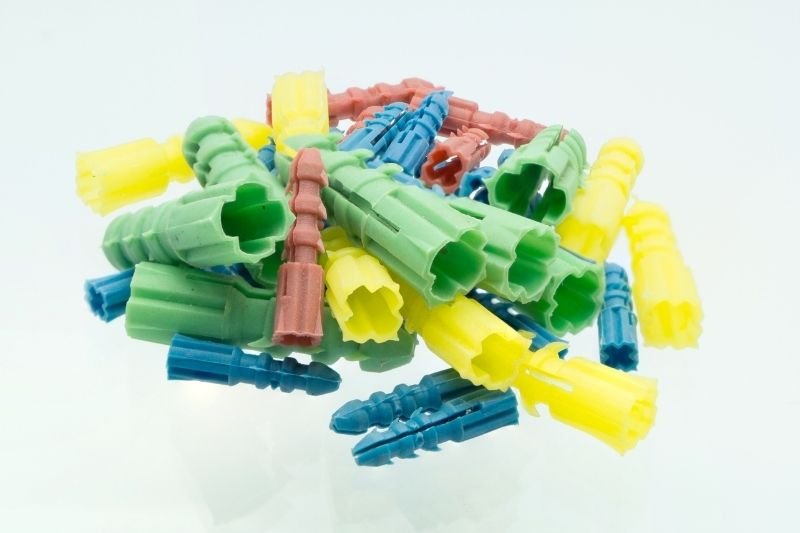 Plastic wall plugs
A plastic wall plug is used to support the mounting of a screw to a wall. This plastic tube is inserted into a drilled hole and then inserted with a screw. Afterward, the screw is tightened, allowing the plastic wall plug to expand and adhere firmly to the wall.
Although plastic wall plugs work well for concrete, they may not work well for plaster since the plugs exert pressure on the side of the plaster wall, causing it to break and become loose.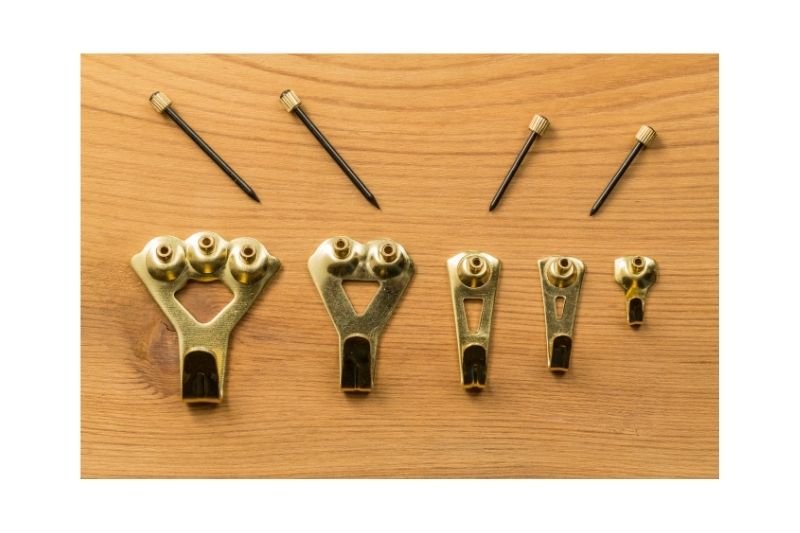 Picture hooks
Picture hooks or picture hangers are a popular method for hanging pictures on a plaster wall. They can often support images weighing up to 9 kg. Use screws in attaching your picture hooks instead of the usual nails since they are safe to use and will not break the plaster wall.
Screws will also hold much better since they will penetrate the lath (for older plaster and lathe type walls) behind the drywall. Avoid using nails on plaster walls since they will cause the wall to crack.
Toggle Bolts
These strong fasteners are available in various lengths and diameters depending on the size of frame you want to hang. They can take a considerable amount of weight.
However, toggle bolts require an over-sized hole to insert the spring-loaded fastener. When the fastener is removed, it leaves a huge hole in the wall which may require professional wall repair.
Hanging Pictures on a Plaster Wall
A plaster wall is often thicker than a drywall wall. While a plaster wall may look similar to drywall, it is considerably more rigid and prone to cracking surfaces.
Make sure to use a tape measure, so you know precisely where you're going to put your pictures. The only other equipment you'll need for most photograph mounting is a screwdriver, hammer, drill, as well as a spirit level.
Always pre-drill holes in plaster and do not use fasteners that pressure the hole's sides because they might damage the plaster wall. Instead, consider adhesive hangers, which do not require a hole at all for lightweight objects weighing less than 3kg.
Safety is Important
Avoid drilling near light switches or sockets since electric wires are located nearby. Always turn off your electricity at the main switchboard before drilling into a wall.
Looking for an affordable plasterer?
Contact Paul for a free quote on your renovation or repair project. With 15 years experience, fully licensed and insured you've got nothing to lose by getting a quote