For years, the choice of wall covering for a bathroom has come down to a decision between quality & appearance versus price. On the one hand you've got wall tiles, which look great, and protect against water, and on the other hand you've got regular painted plasterboard which is much more affordable. What if you could have the benefits of both?
Despite being a centuries old material, Venetian or polished plaster has become increasingly popular among Sydney home owners recently. Venetian plaster gives your walls a spectacular finish, whilst also being water resistant and much more affordable than tiles. Venetian plaster is a high quality, lime-based finish for walls. Whilst it can be polished into a flat glossy surface, it can also create visual texture and depth on walls and ceilings.
The interplay of natural and artificial lighting set against this elegant finish can make a big design statement in any dull space, including a dated bathroom, almost instantly – one of the reasons why Venetian plaster has enjoyed a resurgence in popularity in Sydney. So, what should you know before springing for Venetian plaster in your bathroom?
Looking for someone to do Venetian plastering in Sydney?
With 15 years experience in all aspects of plastering Paul from Paul's Plastering is the qualified and highly skilled tradesman you need for your Venetian plastering job.
Is Venetian Plaster Suitable for my Bathroom Renovation?
A big question we get asked is whether Venetian plaster is suited to a bathroom because of increased heat and moisture. Here are some reasons why it could be a great choice –
Low Maintenance
Framing a high-end finish with no unsightly grout lines, it serves as an excellent low-maintenance alternative to natural stone or tiles in bathrooms. Minor scuffs can easily be removed with mild detergent and a cloth, making upkeep relatively effortless.
Natural, Non-Toxic Material
Venetian plaster is a natural, non-toxic material that does not release any harmful Volatile Organic Compounds (VOCs) like paints and sealers. Your tradesmen and contractors can move on to the next phase of any project without any wellbeing concerns. Additionally, the presence of lime, with anti-fungal properties, can also help to prevent the growth of health-impacting mould.
Durable
As Venetian plaster hardens, it is less prone to cracking and is one of the most durable materials available today. If maintained well, it could even last a lifetime in your bathroom.
With limitless textures and colours at your fingertips, Venetian plaster has soared in popularity for its benefits and flexibility.
Breathable Material
Most Venetian plaster types can be used in wet areas because they are breathable and allow moisture to escape. When applied correctly, this polished plaster becomes rock hard and dries quickly, preventing water and moisture from being trapped under the surface. This maintains the beautiful appeal of Venetian plaster in a moisture-laden bathroom for a long time to come.
Apply Over Existing Tiles
Venetian plaster gives you the flexibility to craft any look and feel without the hard work of removing tiles from floors and walls. As re-tiling increases the cost and timeline of a bathroom renovation, you may be able to speed things up with a Venetian plaster finish over existing tiles.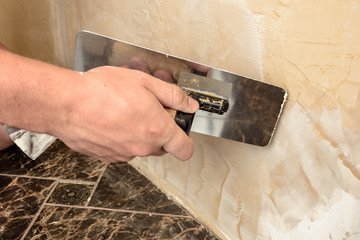 What Types of Venetian Plaster are Available?
Venetian plaster is a bespoke material that can be customised to suit any room style and can also imitate the look of marble, limestone and travertine. Here are some Venetian plaster types available to you –
Travertino
Travertino is a thick plaster with sand particles and grains, which is durable and suitable to many indoor and outdoor applications.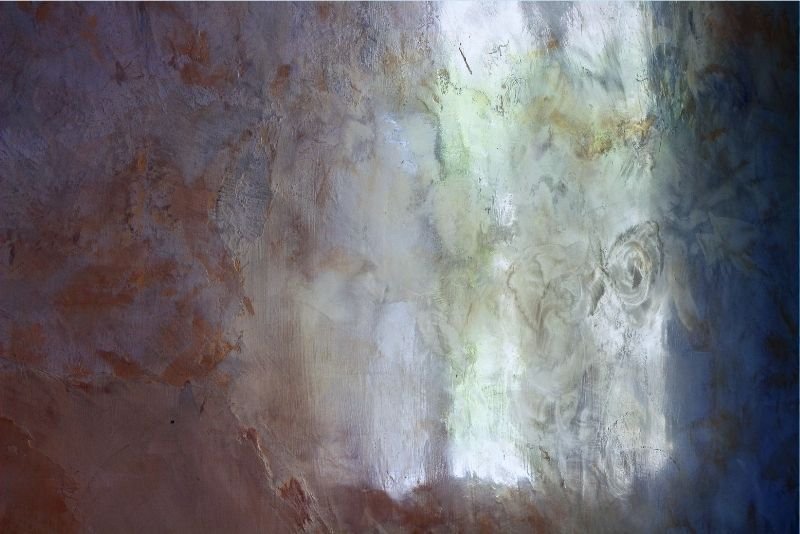 Stucco Veneziano
This type of plaster can be applied in thin layers. It does not contain any sand and can provide an array of finishes – from high-gloss mirrored glazes to a more pared back neutral finish.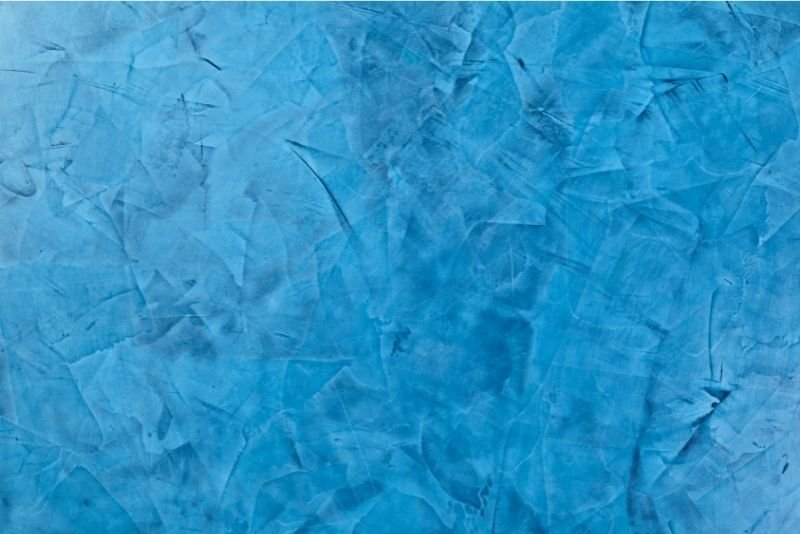 Marmorino
Marmorino is a thin plaster with smaller sand particles, available in matte, semi or glossy finishes to expand your selection. It is a popular choice if you are looking for creative visual effects, patterns and finishes that are smooth to touch.
Working with an Experienced Venetian Plasterer Sydney
Applying Venetian plaster to any room in your home requires a high level of skill and knowledge to achieve a high-standard finish that ticks all the boxes. It is also worth noting that when wet; the plaster is corrosive and alkaline – requiring the use of proper protective gear to handle it safely. For these reasons, this tricky job is best left to a trained Venetian plaster professional.
At Paul's Plastering, we have spent over 15 years mastering this technique, making sure to deliver a smooth and lustrous finish for your walls and ceilings, every time. If you would like to find out we can support you with high-quality renovation plastering services for your home renovation in Sydney, give us a call today.
Get a Free Quote
On your next plastering job, no matter how big or small give Paul a call and he'll give you some honest advice and a fair quote. With 15 years experience, fully licensed and insured you've got nothing to lose by getting a quote