Home designs of yesteryear are quite different to how they're designed and constructed today. Most notably the older homes in Sydney were constructed with many individual rooms. However, modern home designs regularly feature open plan living arrangements. When it comes to renovating your Sydney home you might be considering changing the physical layout of your home by removing internal walls to provide open plan living spaces.
The first question that comes to mind is how much will it cost to remove an internal wall? Next you might be thinking do we have the budget for it? Is that money better spent on the kitchen or bathroom? In this article, we look at some important factors which will impact on the cost of removing a wall in your Sydney home.
Why remove an internal wall?
Removing an interior wall from your Sydney home helps to create an open plan layout which can have a massive impact on the feeling of the space, both in terms of functionality but also in terms of aesthetics. Here are some of the most common reasons why Sydney home owners elect to remove internal wall.
Creates more usable space. Not only do you get the floor space the wall used to occupy but it also increases the usable space in the room. Think about a small dining room with a large dining table. With limited space behind the dining chairs. Such as scenario gives the occupants a feeling of being crammed into the room.
Allows natural light to flow deeper into the home. This has multiple benefits. An abundance of natural light gives makes a room feel larger than it actually is giving the illusion of space. It also means that the occupants will not require lights to be used as often, helping reduce electricity bills and reducing the home's carbon footprint.
Improve the functionality of a space. By removing one or more interior walls your potential configurations for that space drastically improve. Meaning you can set up your living room, dining room, and kitchen, outdoor space optimally.
To build an extension. If your renovation consists of an extension you may end up removing wall.
Is the internal wall load bearing?
Internal walls are either load bearing or non-load bearing.
Simply put load bearing walls play an integral role in supporting the roof structure or floor above. Removing a load bearing wall is no simple task and will require consultation with a builder or engineer to devise a strategy to safely remove the wall without causing any structural damage to the home. Typically, the section where the wall is to be removed will require additional support through the construction of columns and beams to ensure proper structural support is provided to the roof. Whilst these support structures are being constructed it's common for Acrow props (as seen below) to be used to temporarily support the weight of the roof.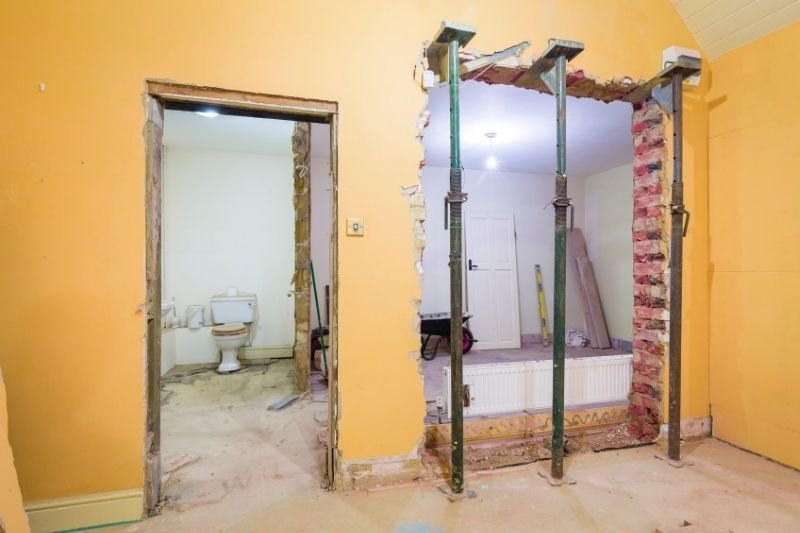 Non load bearing walls also known as partition walls play no role in supporting the roof structure or floor above. They are simply there to partition a section of the home into smaller rooms. These walls can be removed without compromising the structural integrity of the home.
Though there are some indicators which can help determine whether or not a wall is load bearing it's generally best to consult a local builder to ensure peace of mind since the consequences of removing a load bearing wall can be catastrophic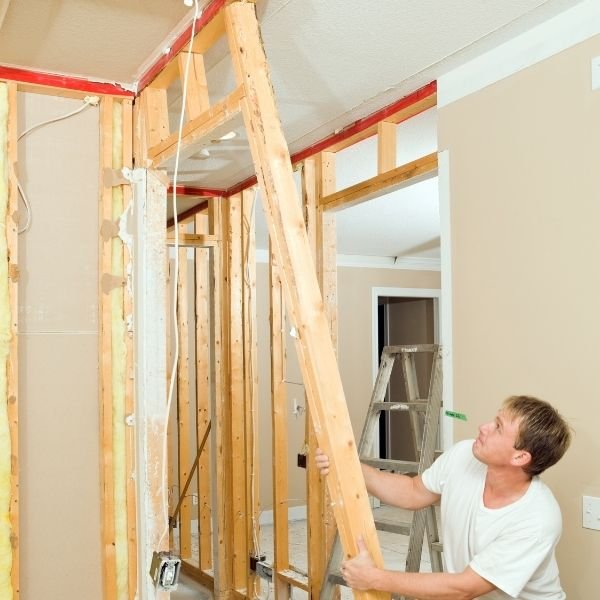 Looking for a plasterer to fix up a removed wall?
If you're in Sydney, NSW call Paul from Paul's Plastering. He'll blend in the plasterwork so you'll never even notice that there was even a wall there in the first place. With 15 years experience, fully licensed and insured you've got nothing to lose by getting a quote
What material is the internal wall made of?
The cheapest and easiest walls to remove are timber stud walls with plasterboard. However, if the wall or walls are constructed of other materials, they can be much more time consuming to remove and even require the usage of heavy-duty equipment to accomplish the task. You can check out our article for more info about common types of internal walls in Sydney homes.
Additionally, fibrocement cement sheeting containing asbestos was commonly used to line interior walls in Sydney homes from the 1940's up until the late 1980's. If your home was constructed or renovated during this time, then it's possible the walls may be constructed of fibrocement containing asbestos. If this is the case the removal and disposal of asbestos products is another cost which you'll need to factor in.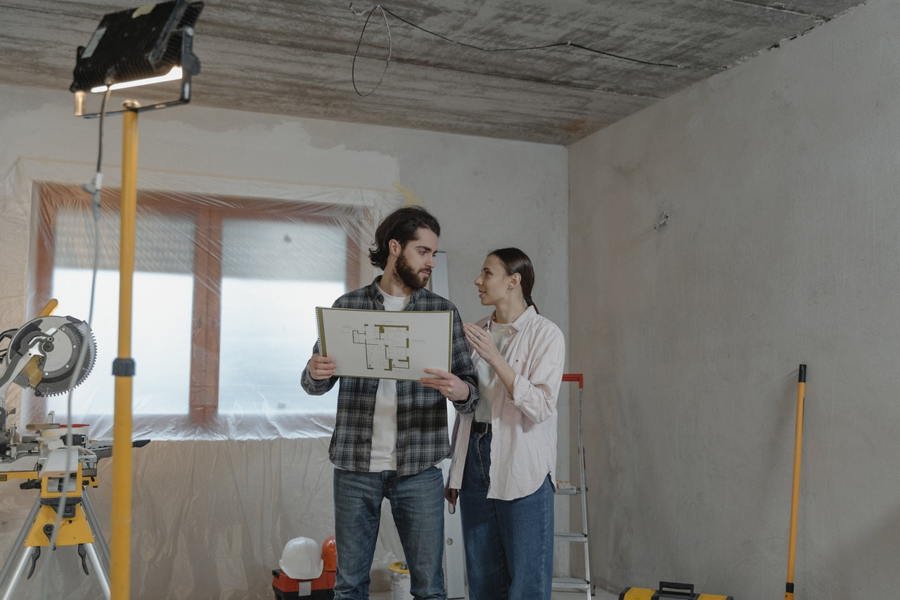 What utilities are in the interior wall cavity?
Internal walls often contain various utilities, think electrical wires, plumbing, air conditioning vents tv antenna cords etc. A good quality stud finder should be able to provide you with an indication of what utilities are residing in the wall cavity.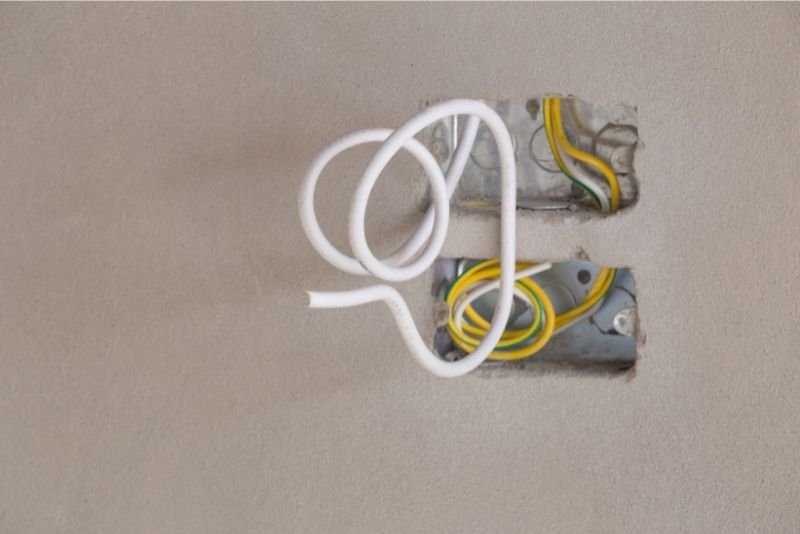 Alternatively, you can try and get access to the house plans from your local council, if they keep records of them, or you can ask the sales agent if it's a recent purchase. It's important to identify what utilities are located within the wall cavity before commencing with the removal project since damage to these utilities can cause person injury and involve costly repairs to rectify damages.
You may need to relocate these utilities which means altering adjacent walls or concealing them within a bulkhead.
Looking for an immaculate finish?
Hire a Professional Sydney Plasterer
With any interior wall removal project, you'll need to experienced plasterer to conceal the alterations and blend the ceiling and walls seamlessly together. Paul's Plastering provides quality workmanship at affordable rates.
With over a decade and a half experience you can rest assured the will project's outcome will certainly meet, even exceed your expectations.
Give Paul a call on 0415 801 028 for a free quote on your upcoming plastering project.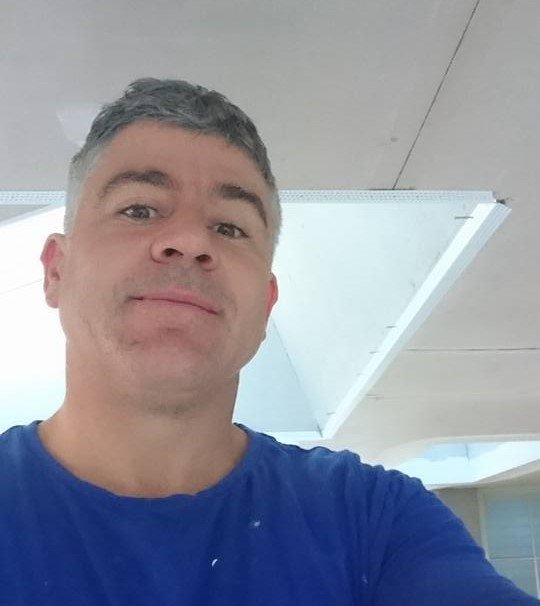 Get a Free Quote
On your next plastering job, no matter how big or small give Paul a call and he'll give you some honest advice and a fair quote. With 15 years experience, fully licensed and insured you've got nothing to lose by getting a quote