The popularity of partition walls has increased significantly in recent years. There was a big push for open plan everything in recent times, due to the trend to keep things open, light and appear larger. Some home owners have found that open plan spaces are not as practical as they may have anticipated for the reasons of heating and cooling, acoustics and usability.
Hence why we have seen that partition walls are making a come back in the design and renovation space across Sydney residential and commercial properties. Partition walls can be used for various purposes, including providing privacy and keeping noise and other distractions at bay. Since these are typically not load-bearing walls, the cross-section can be as small or as large as required.
What Are Partition Walls?
Partition walls are vertical dividers used to split internal building spaces into rooms to give privacy, soundproofing, or circulation. While most partition walls are non-load bearing, some are capable of supporting the weight of the structure that surrounds them, this depends on their construction.
These load-bearing walls support roof trusses or floor joists, depending on the design. A non-load-bearing partition wall, on the other hand, is a wall that does not contribute to the structural stability of the building and is only intended to support itself. They are constructed with lighter materials to reduce their overall weight and are often used to divide a floor into rooms.
What Kind Of Benefits Can Partition Walls Offer?
Partition walls can be an essential component of a building's interior design. Your property will likely have multiple rooms, or large open spaces that can have the design of individual nooks or rooms in built, constructing partition walls is an excellent way to divide them. There are numerous advantages to having partition. walls, including the following.
Confidentiality and Privacy
Because partition walls can be equipped with soundproofing in mind, acoustics of a home or office can be enhanced, much like the benefits of a suspended ceiling.
Cost Efficient
Construction costs are lower because the materials are lighter in weight that load bearing walls. Therefore, using wall partitions to divide an office can be more cost-effective than installing load bearing walls.
Practical To Build
Building partition walls and then dismantling them is less disruptive and takes less time than other types of construction.
Take Up Less Space
Because their cross-section is narrow, they take up less floor space than other types of walls. Meaning less dead space which is especially important in smaller homes.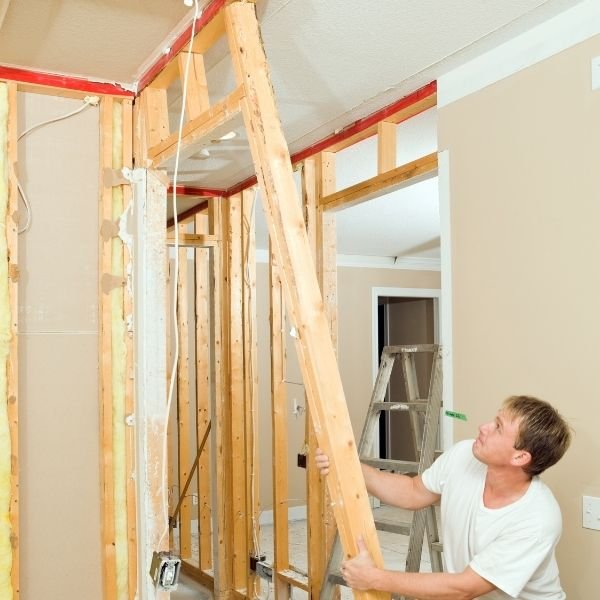 Who Builds Partition Walls?
A partition wall may be the best option for creating an additional room or private area in your house. With a simple partition wall, it's easy to break up a big space into smaller function rooms.
Something to keep in mind is that a partition wall needs to be constructed to code, even if it is not load bearing. We suggest to do your research and check with your local authorities to make sure that the work will be compliant with the most recent building codes, such as those for electrical systems, fire resistance, and ventilation, by engaging professional tradespeople like carpenters and plasterers you will have things built to code but it is always safest to check yourself.
Common Types of Wall Partitions
Wood Partitions – Wooden partitions are supported by a wooden frame on the floor or by sidewalls. The framework is made up of stiff timber elements that can be plastered or coated on both sides. The wall can also have timber instead of plasterboard, depending on the finish you are after.
Metal lath partition walls – They are lightweight, sturdy, and fire resistant. Metal lath partition walls are made by screwing metal lath to 2cm or 2.5cm channels vertically (called studs). The metal is then plastered on both sides, popular in more industrial style buildings.
Plasterboard sheeting– versatile, more cost effective and fast to construct.
Glass partition walls – They're small, light, and require a professional to install for optimum outcome. A sheet of glass can be attached to a wooden framework and fastened using putty. Glass sheet partition walls are also light in weight and soundproof. This is often used in commercial spaces like in dentists, beauty salons etc, offices, etc.
Concrete Partition wall – A plain or reinforced concrete slab is held up by vertical elements that hold it up laterally. Precast or poured monolithically, concrete partition walls are solid and rigid, but they are more costly to build.
Partition walls can be constructed in various shapes and sizes from a range of materials, including plasterboard, wood, glass, and metal. They can also be of the fixed foldable or collapsible design.
Most home renovations and additions require the services of a plasterer at some point. The expertise of our head plasterer in Sydney, will help you get the best outcome for your renovation. From modern plasterboard installation for walls and ceilings to more traditional plaster and lath, you can rely on Paul to get the job done well every time.