Noticed a crack in your ceiling? Not sure if a superficial issue which is merely an eyesore but nothing to be overly concerned about or whether the crack is an indication that something is seriously wrong, and you need to take immediate action to rectify the issue. Here are some of the common causes of a ceiling cracking and what you can do to ensure your ceiling repair project solves the root cause of the problem.
Fine ceiling cracks
If you find spiderweb-like cracks on the ceilings, it could be due to either to previous older layers of paint cracking or due to joint compound cracking. When a thick layer of joint compound is applied it tends to shrink and causing fine cracks to develop.
As they are only superficial issues, you can choose to ignore them. However, you can also apply a thin layer of drywall compound to cover these cracks.
Cracks with discoloration
Sometimes cracks on the ceilings have a brown or yellow stain. This could be an indication that there's an overhead water leak that travels down to the ceiling. This can cause the joint tape to loosen resulting in cracks. The water or moisture can cause unsightly discoloration.
Before you fix these types ceiling cracks, the water leak must be dealt with first. You may consult a plumber to find the root cause of the issue at hand. They will check the water lines for leaks and inspect the roof for signs of damage which could result in rainwater entering the roof.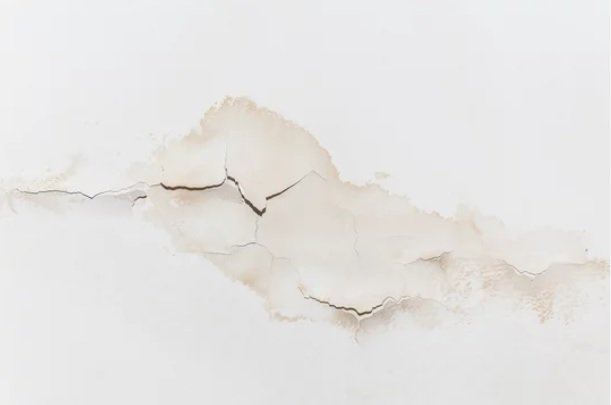 Once the root caused has been addressed and properly dealt with, only then can remedial work on the water damaged ceiling can be performed. Typically, this will require a section of the joint tape to be substituted with a new section of tape secured with two or more coats of joint compound. If the water leak has caused significant damage sections of plasterboard may need to be replaced as well. You may wish to engage a professional Sydney plasterer for a project such as this.
Paint peeling
If you notice that the paint is peeling off the ceiling, it could be due to several reasons. It can be due to high humidity, poor surface preparation when the paint was applied, too many layers of paint, or using a type of paint that is incompatible with the surface.
When this happens, you can scrape off the loose paint and use the right paint to cover the area. Always allow enough time for each coat to dry completely before applying the subsequent coats. To prevent this from occurring in the future it's a good idea to try and decrease humidity levels in the room. You can simply open windows and doors to allow fresh air to circulate in the room, use dehumidifiers or install air vents to help circulate the air inside your home. By doing this you can ensure the longevity of your painted walls and ceilings.
Cracks due to truss uplift
If you see cracks on areas where the ceiling meets the wall, this could be due to truss uplift. Because of changing seasons and humidity, the roof trusses tend to fluctuate causing them to move or shift a little. Although this is a common issue, most homes are engineered to handle roof truss fluctuations.
It is usually not a structural problem, but a cosmetic repair will not stop the trusses from causing the cracks. Some adjustments may be needed such as reattaching the plasterboards to the trusses.
Removal of load-bearing walls
Before a load-bearing wall is removed, beams and columns are installed to carry the load of the structures above. If such beams and columns are not installed the ceiling could weaken, and large cracks can form across the ceiling. Eventually this can lead to collapse and impose safety risks to the occupants of household. The ceiling can sag or bow as well since it is unable to support the excessive weight. This is a structural problem, and it is highly recommended to consult a licensed builder to repair the damage.
Your ceiling can last a long time when the workmanship is done properly and when it is maintained regularly. Sometimes small cracks grow into bigger ones that can be more difficult to repair later on. When you notice any major cracks in your home it's best to consult a builder or building engineer to immediately inspect and repair the ceiling.
Get a Free Quote
On your next plastering job, no matter how big or small give Paul a call and he'll give you some honest advice and a fair quote. With 15 years experience, fully licensed and insured you've got nothing to lose by getting a quote