Are you curious about how much it costs to replace a ceiling in Sydney, NSW? Or perhaps to install a new ceilings, repair a ceiling, or install a suspended ceiling? you've come to the right place. When it comes to renovating your home there are a ton of moving parts and things to consider. It's important to have at least a rough idea of certain projects so you can wisely allocate your budget to high priority projects. That's why we composed this article to give you a ballpark figure on how much it costs to perform a variety of ceiling related work in Sydney, NSW.
Please note that this article is only a rough guide, costs may vary significantly depending on numerous factors. For an accurate quote on your specific job contact Paul's Plastering to obtain a free quote on your upcoming plastering job.
Quick links
New ceiling costs
Factors that can influence costs
Cost to replace ceiling
Cost to remove old ceiling and replace with new ceiling
Cost for suspended ceiling
Repair or replace ceiling
Cost to repair ceiling
How much does it cost to install a new gyprock ceiling?
If ceiling has extensive water damage, or perhaps you're building an extension on your home you may need to install a new plasterboard (aka gyprock) ceiling. Here's what you can expect to pay.
per square metre: $25-$60
Price range for average size bedroom: $1200-2500
Average 3 bed house: $3000-$10000 including outdoor spaces like verandas
Factors that influence costs
Type of Plasterboard used – There are many different types of plasterboard with different properties that have different price tags.
Type of Cornice or Finish on Wall and Ceiling Junction

– for example square set finishes will cost more than a standard cornice finish. Furthermore, there are several cornice options to choose from standard to various degrees of ornamental and decorative cornices.
Size of Job

– The larger the project the more expensive it will be due to increased material costs and increased time required to complete the job. Having said that larger jobs are generally cheaper per square metre than smaller ones.
Rubbish Removal

– Removing of existing ceiling will add to labour costs in addition to fees assosiated with the disposal cost of old ceiling.
Complexity of Project – Cathedral ceilings, coffered ceilings, beam ceilings, tall ceilings or other non-standardized ceilings will require more time and expertise thereby increasing labour costs.
Ease of Access

– An often-overlooked factor but difficult access may require lifts and hoists to be used in order to transport materials into the workspace. This is most often an issue in inner city town houses with narrow internal staircases.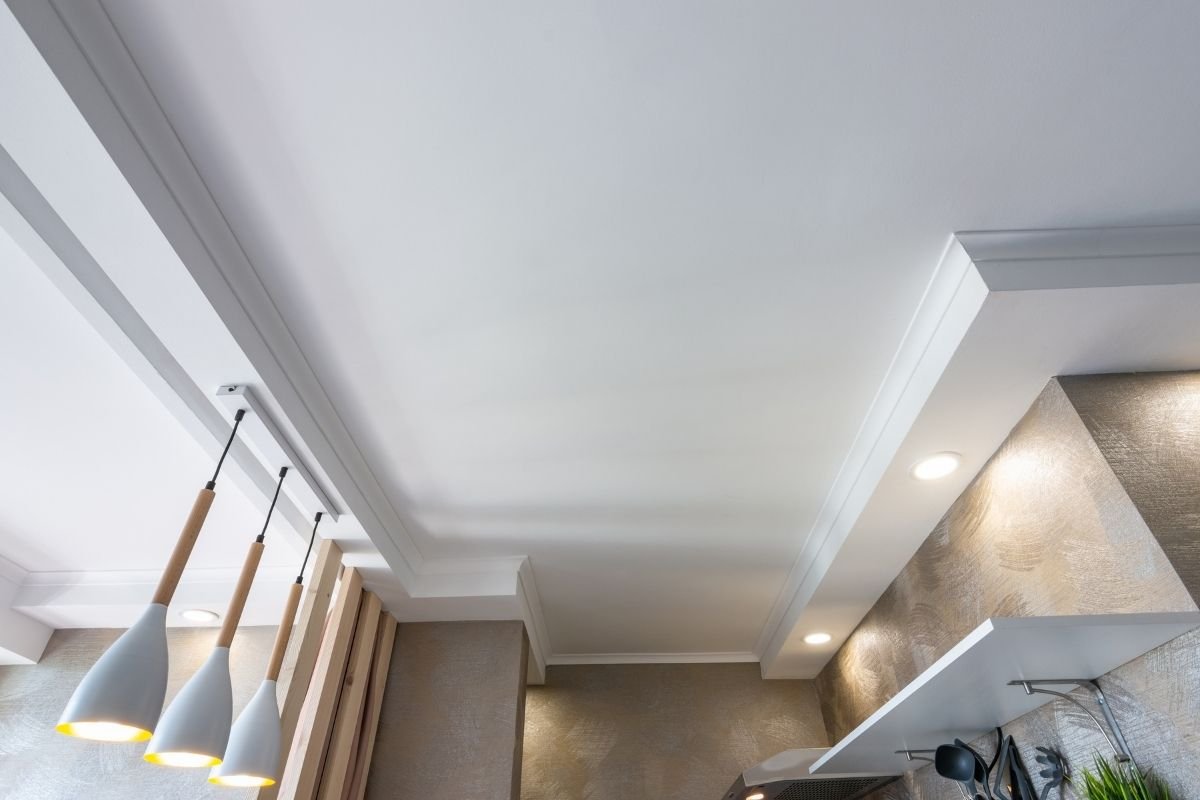 How much does it cost to replace a ceiling?
There are few reasons why you may want to replace a ceiling including: cover an existing ceiling such as a vermiculite ceiling, or when the cost to repair the current ceiling is significant. There two ways a new ceiling can be achieved. The first is by removing the existing ceiling and replacing it with a new ceiling or simply overlay a new ceiling, or suspended ceiling beneath the existing ceiling.
How much does it cost to remove an old ceiling and replace it with a new one?
The cost to tear down the old and replace will be greater due to the increased labour involved in addition to disposal fees associated. As a ballpark figure you can expect to pay $70-$130 per square metre. Factors that influence the total costs will be similar to those mentioned previously.
Should I repair ceiling or replace?
Ceiling repair is usually the most cost-effective option for Sydney homeowners. Whether your ceiling has cracks or has been damaged by water repairing an existing ceiling is the first option. Skilled plasters are able to blend ceiling repairs seamlessly leaving minimal trace that any damage ever occurred, making ceiling repair an attractive option.
How much does it cost to repair a gyprock ceiling?
Customers often ask:
how much does it cost to fix a hole in the ceiling?
how much does it cost to replaster a ceiling?
how much does it cost to repair a water damaged ceiling?
It's not the answer they want to hear but unfortunately the answer is most often "it depends" without seeing the scope of work required it's impossible to answer the accurately answer the question.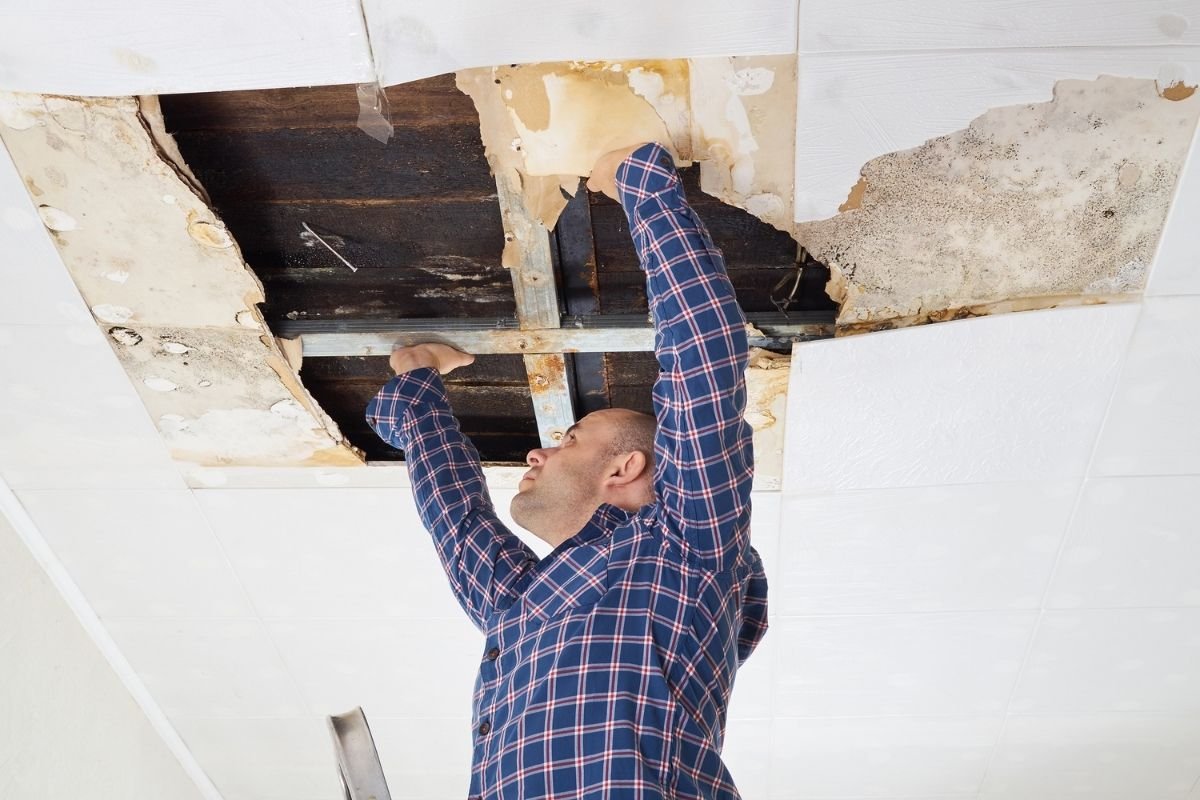 Call Paul for an accurate estimate on your ceiling plastering project in Sydney
Now that you've got a rough ballpark idea of ceiling costs in Sydney you can perform your initial planning and calculations for your renovation. If you're seeking more general information the ATO has some benchmarks for plastering work. When you're ready to install a new ceiling or repair an existing ceiling simply give Paul from Paul's Plastering a call for an obligation free quote on your ceiling plastering project.
Looking to repair or replace a ceiling?
Contact Paul for a free quote on your ceiling repair or replacement project. With 15 years experience, fully licensed and insured you've got nothing to lose by getting a quote